High Performance Ultimate Upright Expandable Lunch Pack
SuperFoam® insulation with Therma-Flect® radiant barrier interior • Leak proof, easy clean interior lining with Microban® • Provides almost double capacity when expanded • Includes 2 piece leak proof food container and high performance ice pack
The Arctic Zone® High Performance Ultimate Expandable Lunch Pack provides double the capacity when expanded* and includes a 2 piece leak proof container and high performance ice pack.
The interior features SuperFoam® insulation with Therma-Flect® radiant barrier to keep food and drinks cold and an Ultra Safe® leak proof** lining with Microban® to help protect against bacteria that causes odors and stains and make the lining easier to clean.
Designed to be carried vertically or horizontally, the pack has 2 padded handles and a removable, adjustable shoulder strap. One of the handles includes an attachable Swing Clip™ that clips onto backpacks.
Great for school, the office, lunch in the park.
*approximately
**Zipper is not leak proof

• Expands to double capacity*
• SuperFoam® insulation with Therma-Flect® radiant barrier keeps contents cold
• Ultra Safe® easy clean lining with Microban® to help protect against bacterial odors and stains and make the lining easier to clean
• Dual padded handles
• Removable, adjustable shoulder strap
• Carries vertically or horizontally
*approximately
**Zipper is not leak proof
Length x Depth x Height
8" x 3.75" x 10.25"
Capacity
143 oz (collapsed)
Weight
1.73 lbs
| | |
| --- | --- |
| Length | 8" |
| Depth | 6.3" |
| Height | 10.25" |
| Capacity | 270 oz |
| | |
| --- | --- |
| Length | 7.67" |
| Depth | 4.92" |
| Height | 2.75" |
| Capacity | |
Customer Reviews
Write a Review
Ask a Question
10/15/2022
Gary B.

United States
perfect fit
This Artic cooler lunch box was a perfect fit for my son! It is the perfect size for him and keeps his lunch fresh and cool!!
01/10/2022
Nancy

United States
Defective
The seam area underneath the zipper is not sewn properly. There is an area where the seam is not stitched into place, which will cause the seam to separate from the bag. And the zipper also sticks and does not work smoothly in that spot. I initially ordered this bag and another and had free shipping. It is not worth returning or exchanging this bag due to losing a significant portion of the purchase price when shipping winds up being charged back to the account. Very disappointed.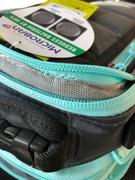 Hi Nancy, Thank you for choosing Arctic Zone and for taking the time to write a review of our product. Customer satisfaction is very important to us and we would appreciate the opportunity to resolve any issues or concerns you have. We are very sorry to hear about the problems you had with your product. This does not live up to our standards of quality or experience. For that we apologize. In order to rectify this situation to your satisfaction, we ask that you kindly fill out the Return Claim found on our website at https://arcticzone.com/pages/refund-policy. We want to make this right! We always welcome feedback or suggestions from the people who use our products. They're usually the best to tell us if they think we need to add a feature or change one that already exists. If you have any further questions or we can be of any further assistance, please email us at arcticzone@ca-innovations.com. Best regards, Arctic Zone
09/09/2021
Lauren

United States
great product
We have always loved these ice packs and lunch boxes. My son just replaced the one he had for 4 years at school. This newer version is equally amazing. His ice packs are still partially frozen 10 hours later when we are returning home to unpack bags and lunches. IT's a great size and the option to expand is also great.
09/06/2021
Rikki D.

United States
Excellent
Great lunch bag! It actually keeps good cold all day. Great size for kids lunches.
05/07/2021
Bob F.

United States
Not 2 happy
The one I already had has a net pouch sewn in on inside top and holds ice pack in w a little velcro patch, this one must be a different model because theres no velcro or net. I wouldn't of purchased if knowing this. I would of appreciated inside pictures of products.