Guide Series 16 Can Cooler
Keeps ice up to 2 days • Deep Freeze™ performance insulation with radiant heat barrier • Leak proof, easy clean interior lining with Microban® • Interior ice pack pocket • Water and stain repellent, easy clean exterior
Built for the outdoors, the Titan Guide Series 16 Can Cooler keeps ice up to 2 days!  The interior features Deep Freeze™ high performance insulation with radiant heat barrier, triple layer Cold Block™ base, extra thick Ultra Safe® leak proof, easy clean lining with Microban® antimicrobial protection and a large ice pack pocket with hook and loop closure.
The exterior is constructed of durable water and stain repellent material and includes an easy access lid, multiple exterior accessory pockets, a compression molded base, padded back panel and anti-slip shoulder strap.  There are also daisy chain attachment loops and side D-ring tie-down latch points for extra stability in flatbed trucks or boats.
Great for camping, boating, the beach…...
• Keeps ice up to 2 days
• Easy access lid
• Deep Freeze™ high performance insulation with radiant heat barrier
• Leak proof, easy clean lining with Microban® to protect against bacterial odors and stains
• Interior ice pack pocket
• Adjustable shoulder strap with anti-slip shoulder pad
• Daisy chain attachment loops and side D-ring tie-down latch points
• Water and stain repellent exterior
Length x Depth x Height
13.00" x 10.00" x 12.75"
Length x Depth x Height
9.75" x 7.37" x 10.25"
Capacity
16 Cans
Weight
2.29 lbs
Customer Reviews
Write a Review
Ask a Question
08/24/2022
Jerry s.

United States
Great cooler
Cooler is awesome workes very well just the right size for being on lake Superior all day. Sent the wrong cooler first time but being an AWESOME company they took care of it promptly and professionally.
01/31/2022
Ryan D.

United States
****** straps
Great box but the straps starting falling apart in the first week of use. Also it took three weeks to get delivered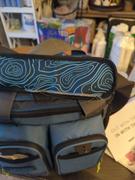 Hi Ryan, Thank you for choosing Arctic Zone and for taking the time to write a review of our product. We stand behind our products. Our quality control team follows a specific testing protocol in order to ensure that the products we sell are top quality. We would be happy to replace this item free of charge under our Limited Warranty. For the fastest processing, we recommend filling out our [ Warranty Claim Form ], this form will provide our support staff with all the necessary information to begin processing your request. Best Regards, Arctic Zone
10/08/2021
Joshua W.

United States
Great little cooler/ lunch box
Ordered this a little too late to find out how it'll do in the summer but, my drinks tend to stay cold in it inside my hot cab over truck so far, I'll find out next dinner how it'll do with the extra heat. Seems alot more durable as well. But as for the size I lay an ice pack on the bottom, and put one in the middle and can fit six small bottles or cans. Definitely can not fit 16 drinks on it though. If I froze a couple water bottles instead of the ice packs I'd be able to get a few more drinks but not many. And I can get a few granola bars or something towards the top but that's about it. Can't really pack a full lunch. Happy it stays cold but thought it was going to be bigger because it says 16 cans.
Hello Joshua, Thank you for your feedback on your experience with our Titan Guide Series 16 Can Cooler. Our products have been tested to ensure they fit the can size in addition to ice. Please reach out to one of our customer care team members who can assist with the best way to pack your cooler and all the tips and tricks to get the most from your item. We can be reached at service@ca-innovations.com Please also feel free to see the link below for more tips on getting the most out of your Cooler: https://arcticzone.com/pages/maximize-performance If you have any questions or concerns, feel free to contact us anytime. Thank you again, Arctic Zone
09/23/2021
Douglas R.

United States
Chill
A very good soft cooler...with an ice pack on bottom, 1 between 4 foster oil cans, with a fifth on top of others ( bit snug) but they're bigger than regular size beverages, overall a nice set up
09/18/2021
Simon K.

United States
Good tough bag so far
Good spacious cooler with pockets for other items really good. The pad at the bottom of the cooler makes sure the cooler stays protected from scrapes, and also acts as additional insulator from hot surfaces. Only issue is with the shoulder pad on the long strap - it has already shredded a little bit from use. Other than that, it keeps my items cold like I need them to be.
08/29/2021
Christopher S.

United States
Keeps cold
I was actually impressed. During an unusually hot PNW summer, I packed some cold drinks with some reusable ice packs in my Titan guide series cooler. I left the cooler in my hot vehicle for 4-hours. When I grabbed a cold drink, I was actually impressed with HOW cold it was. My only complaint is with the long handles, as it seems they aren't really necessary for me. (just personal preference - I can grab the shoulder strap if I needed a "handle". I might just cut them off )
08/20/2021
Aisha J.

United States
It's alright!
I like the size. Lives up to the promise of keeping things cold and I think the zippered one is far superior to the no-zip kind.
06/24/2021
Daniel B.

United States
Good
I was looking for a cooler for my lunches a d this fits the bill well. It was just a little taller than my old one and keeps the food colder than the previous cooler. I wish it was just a little wider and it would be perfect.
09/19/2020
Bailey R.

United States
Excellent
Great cooler, great price, could have more pockets for storage. Still a good cooler
07/04/2020
Trevor S.

United States
Love the cooler
I work as a Correctional Officer and have been carrying a small cooler and backpack back and forth to work since I started. I recently started to look for a bag that would function as both and came across this cooler. It has nice large front pockets for more important stuff and elastic side pockets for throwing all my duty gear in. Fits the bill for what I wanted perfectly. Only very small complaint I have is regarding the carry handle. I wish it had some kind of velcro handle like a duffel bag to hold the two carry straps together instead of the magnets. Other than that, love it.