60 (50+10) Can Wheeled Cooler
Keeps ice up to 3 days • Easy access lid • Deep Freeze™ performance insulation with radiant heat barrier • Leak proof, easy clean interior lining with Microban® • Expandable, insulated front compartment • Water and stain repellent, easy clean exterior • Detachable all terrain cart
The Titan by Arctic Zone™ 60 Can Wheeled Cooler keeps ice up to 3 days!
The rugged exterior of the Rolling Cooler is water and stain repellent so that it wipes clean easily. It includes an expandable, insulated front compartment and an easy access lid that allows you to quickly reach inside for contents without having to open the entire cooler.
The interior of the cooler features Deep Freeze™ high performance insulation with radiant heat barrier and triple layer ColdBlock™ for superior cooling.  There is also an Ultra Safe® leak proof, easy clean interior lining with Microban® to help protect against bacterial odors and stains.
Included with the cooler is a detachable All Terrain Cart that features an expandable, extra wide base, all terrain wheels, retractable, telescopic hook 'n' go handle and can hold up to 100 lbs./45.4 kg. If you want to use the cooler without the cart, the Backsaver® adjustable shoulder strap with anti-slip shoulder pad centers load weight to help make the cooler easier to carry. Both the cooler and cart collapse for easy storage.
*zipper is not leak proof

• Easy access lid
• Deep Freeze™ high performance insulation with radiant heat barrier for superior cooling
• Ultra Safe® leak proof* lining with Microban® to help protect against bacterial odors and stains
• Triple layer ColdBlock™ base
• Expandable, insulated front compartment
• Adjustable Backsaver® shoulder strap with anti-slip shoulder pad
• Rugged, water and stain repellent, wipe clean exterior
• Detachable all terrain cart
*zipper is not leak proof
Length x Depth x Height
14.75" x 15.50" x 19.00"
Length x Depth x Height
13.25" x 12.00" x 14.75"
Capacity
50 + 10 Cans
Weight
6.75 lbs
Customer Reviews
Write a Review
Ask a Question
11/01/2022
Adrian M.

United States
Great product
Second one I've ordered and has been a great product to have
10/23/2022
Tamika R.

United States
Great Convenient Cooler
Love it. Sturdy bag, saw some complaints regarding the bag slipping off of the base but my husband used the straps at the bottom of the bag and fastened them on both sides and so far we have not had that problem. Great for our road trips and deliveries. Love the extra front zip pockets and side mesh. All around good rolling cooler
10/16/2022
Justin S.

United States
Awesome cooler
It is an over all great cooler. Could use some improvement on keeping it attaced to the cart with wheels. Im just gona add two vecro straps at bottomg of cooler to keep attached to cart.
10/04/2022
Artemio G.

United States
Great bag and roller.
I love the bag and how easy it is to roll around. I use it for my softball games and the beach. Unfortunately after a few hrs it leaks at one corner and wets my trunk, even at the beach it started leaking. I do recommend this product. AG
09/28/2022
Lou A.

United States
My Titan Deep Freeze Cooler
I totally love this cooler it's so easy to pull compared to my previous one that felt like it was fifty pounds, this Titan cooler just glids along when your pulling it effortless it's so functional to, I've had a lot of compliments on it and where I got it, and I've recommended where people can get it if they want one, I keep cooler freezer packs in it when I freeze them there still partly frozen and still cold the next day just awesome! Thank You
09/08/2022
Keith

United States
All This And Wheels Too!
I bought this cooler to take to pickleball events and tournaments and it's awesome. Super large capacity while still being small and light and the easy access to door is awesome as you don't have to keep unzipping the top…makes everything simple. The trolley is great and very clever. I read the review below about the cooler not staying on the trolley. I haven't had that problem at all. For tournaments, I load this up and carry my tourney bag on top of it. It's perfect and makes life easy.
09/07/2022
David S.

United States
Good idea, implemented terribly
When I saw the product description, I thought this was exactly the cooler I needed for my boat. The cart would make it easy to roll down the dock and the size was just right. Well, so I thought. In reality, this cooler was incredibly frustrating to use. With the cooler loaded and strapped to the cart, lifting by the cooler strap results in the cart falling to the ground and the folding section collapsing. On the other hand, attempting to lift the cooler by the cart handle, even when it's only half full with ~24 cans and some ice packs, reveals that the cart is WAY too flimsy for that purpose. So, after the first use I recognized that the cart was useless. As for the cooler itself... it's got a little plastic "window" on top that's apparently intended to show off the silver insulation beneath the nylon shell. Well, the window seems to have the consistency of Saran Wrap, as the first time you brush your hand across it, the plastic rips and exposes the floppy silver insulation beneath. And the side handles aren't long enough to touch one another, so you can't carry the cooler with one hand... you need both hands to hold each side handle separately. It's actually astonishing how poorly implemented this design is. The company cannot possibly have performed any real-world user testing before foisting it upon the public. Aside from all that... it holds 60 quarts and it keeps things cold, as advertised. But there are a lot of more practical coolers that do the same, for less money.
Hello David, Thank you for the time to leave your review. Our design team is constantly going over customer reviews like yours, looking for honest feedback on features that our loyal customers would like to see improved to help make our products even better. We appreciate your business and taking the time to provide feedback. In order to rectify this situation to your satisfaction, we ask that you kindly please take advantage limited lifetime warranty https://arcticzone.com/pages/warranty and fill out a warranty claim form so we can provide a replacement for you right away so you may enjoy your rolling cooler the way it was intended, and as many of our customers already do. We want to make this right, and we look forward to hearing from you. Best regards, Arctic Zone
09/06/2022
Sally

United States
Ice melts in an hour
Love the way it wheels, love the size of the cooler, the most disappointing thing that I needed it for was to keep beverages cold with ice. The ices melts and the bag is filled with water!! Very very disappointed in this cooler. On the search for a new one won't be arcticzone !!
09/06/2022
Lori G.

United States
Th
This was bought for Christmas present for our daughter and son-in-law. Our grandsons play travel baseball.
09/04/2022
Sam

United States
Not all terrain- cart sucks
I had been searching a very long time for a cooler this size that i could wheel around with no issues- or at least minimal issues. I was so excited when I found this! Then is arrived. Upon taking it out the box I was already mad- this detached cart is terrible. I immediately thought there's no way these itty bitty wheels were "all terrain" but ya know what ever I'm optimistic. Then I discovered that there is only one strap in the back to secure this cooler to the cart….Seems like a bad time waiting to happen as soon as I hit a small bump…that's exactly what happened. It does not stay on the cart, I had to take the should strap and run it along the bottom to make it more secure.- which looks dumb but it worked. The access opening at the top is convenient. I think that's the only thing I like. My old igloo coolers straps broke and I'm debating on gluing and sewing them back on to use that again instead of this one I bought to replace it.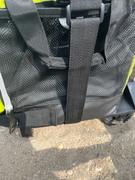 Hi Sam , Thank you for taking the time to leave your review. Our design team is constantly going over customer reviews like yours, looking for honest feedback on features that our loyal customers would like to see improved to help make our products even better. We appreciate your business and taking the time to provide feedback. In order to rectify this situation to your satisfaction, we ask that you kindly please take advantage limited lifetime warranty https://arcticzone.com/pages/warranty and fill out a warranty claim form so we can provide a replacement for you right away so you may enjoy your rolling cooler the way it was intended, and as many of our customers already do. We want to make this right, and we look forward to hearing from you. Best regards, Arctic Zone