Guide Series 36 Can Cooler
Keeps ice up to 3 days • Lid with Tabletop™ and 4 drink holders • Deep Freeze™ performance insulation with radiant heat barrier • Leak proof, easy clean interior lining with Microban® • Water and stain repellent, easy clean exterior
Built for the outdoors, the Titan Guide Series 36 Can Cooler keeps ice up to 3 days and can easily accommodate a weekend's worth of food and drinks! 
The roomy interior features Deep Freeze™ high performance insulation with radiant heat barrier, triple layer Cold Block™ base, extra thick Ultra Safe® leak proof, easy clean lining with Microban® antimicrobial protection and a large ice pack compartment with hook and loop closure.
The exterior is constructed of durable water and stain repellent material and includes a smooth TableTop™ surface with 4 drink holders; easy access lid, multiple exterior accessory pockets, a compression molded base,  padded back panel and detachable shoulder strap with anti-slip shoulder pad.  There are also daisy chain attachment loops and side D-ring tie-down latch points for extra stability on flatbed trucks or boats.
Great for camping, boating, picnics or just hanging out on the dock.
• Keeps ice up to 3 days
• TableTop™ lid with 4 drink holders and easy access panel
• Deep Freeze™ high performance insulation with radiant heat barrier
• Leak proof, easy clean lining with Microban® to protect against bacterial odors and stains
• Interior ice pack compartment
• Detachable shoulder strap with anti-slip shoulder pad
• Daisy chain attachment loops and side D-ring tie-down latch points
• Water and stain repellent exterior
Length x Depth x Height
17.50" x 13.25" x 14.50"
Length x Depth x Height
14.50" x 10.37" x 10.25"
Capacity
36 Cans
Weight
4.08 lbs
Customer Reviews
Write a Review
Ask a Question
10/17/2022
Mary A.

United States
Very nice cooler
It going to be a gift and it a very nice cooler and I love the opening on the top so you can get one out without opening the whole top! Great seller!
09/09/2022
Stanley L.

United States
Very nice cooler
Works very well on day to day. Holds lots of beverages. Holds day of food also. Keeps both cold all day, even when partly left in sun.
01/07/2022
Timothy S.

United States
The Ultimate Lunch Tote
With SO MANY pockets, it gives me room for ALL my snacks, hot and cold food, tablets, chargers, condiments and utensils. This is the MAC DADDY tote for anyone who has to eat lunch and dinner at work.
11/13/2021
Jayelle A.

United States
Lots of pockets
My experience has been pleasing. The cooler is my lunch box for 16 hour days. It contained and keeps cool everything I put inside. Sometimes I forget to remove the ice blocks, and they are still mostly frozen a day later. The pockets are great for things that I need to have quick access to. I was able to eliminate another bag I had to carry from my daily routine.
09/10/2021
Paul L.

United States
Well made and affordable
We have only used it once but it appears to be extremely well-made and thought out. The price is a third of a yeti.
08/21/2021
Aaron J.

United States
Perfect for river float
We use our on our sit on top Kayak and it works well. Specifically purchased it for the the cupholders and so far so good. It's capacity is deceiving, it would never hold 36 cans unless completely empty with no ice, so plan on 20 max with ice. Extra pockets are nice for storing wallet, keys, etc. Time will tell if this is actually a solid product.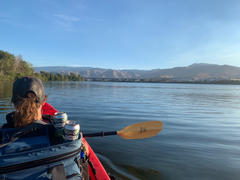 08/17/2021
Lynn W.

United States
Perfect for boating on a hot summer's day
We'd been looking for a cooler for our deck boat that would fit under a seat in the aft of the boat. This cooler is a perfect fit and has a capacity that meets are needs for cold drinks for a boat load of folks. Even on the mid-90 degree afternoons the cooler retains ice much longer than our previous hard-sided coolers. We typically put a small ice block (ice block from a frozen milk container) in the bottom of the cooler and fill a plastic slider zipper bag with ice cubes for drinks that lasts the entire day. Certainly would have easily given a 5 star rating, but (1) the lid zipper folds under and makes it a bit difficult to re-zip and (2) the handles are a bit awkward as they keep coming apart when carrying the cooler mainly because they are only held together with a magnet as opposed to a hook-and-loop type fastener. All in all we are very pleased with our cooler and hope it lasts us for years to come.
08/13/2021
Caleb M.

United States
Almost perfect, holds ice very well
This cooler is almost perfect. It has very useful pockets and I use the looped webbing on the corners to clip things to or use to bungee a rolled towel on the sides. It holds ice very well for a soft cooler and the bottom doesn't sweat. The reinforced bottom makes it sit solid on the ground or beach and the small access lid makes it easy to grab small items out. If this cooler had a removable hard plastic liner it would be perfect. I worry that at some point the soft liner will become punctured or start to leak. If it had a hard plastic liner it would be absolutely perfect.
08/05/2021
Fernando G.

United States
I've holding
Doesn't hold ice as advertised. I have an igloo cooler that would hold ice for longer hours that cost half the price of the titan.
Hi Fernando, Thank you for choosing Arctic Zone and for taking the time to write a review of our product. Customer satisfaction is very important to us and we would appreciate the opportunity to resolve any issues or concerns you have. A cooler's performance is directly related to the amount of ice placed inside it. This is the same for coolers all across the market. In order to assist our customers in figuring out the right amount of ice to use, we provide ice guides on our product pages. These provide ice to food ratios and the amount of time you can expect contents to stay cold based on the ratios you use. You can also visit us at https://arcticzone.com/pages/maximize-performance for more tips and tricks. If you are still dissatisfied with your purchase, you may visit our returns and refunds page. If we can be of any further assistance, please do not hesitate to email us at arcticzone@ca-innovations.com. Best regards, Arctic Zone
07/22/2021
Paul D.

United States
I like it holds a lot. If there's a next generation. The top should have a zipper cove to hold soft goods .and still hold cans.